YOUvitalize Team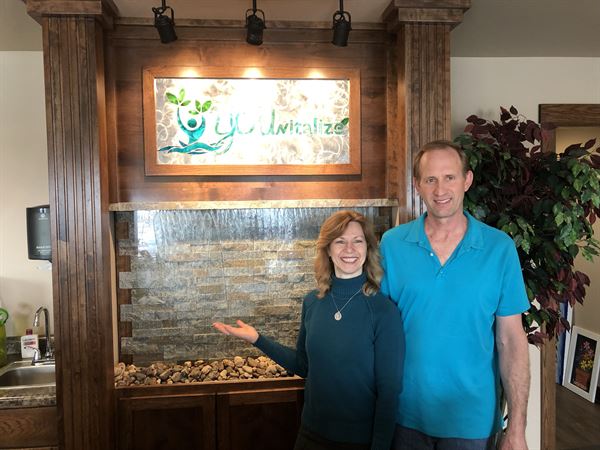 Shar and Gene Dukart,
Owners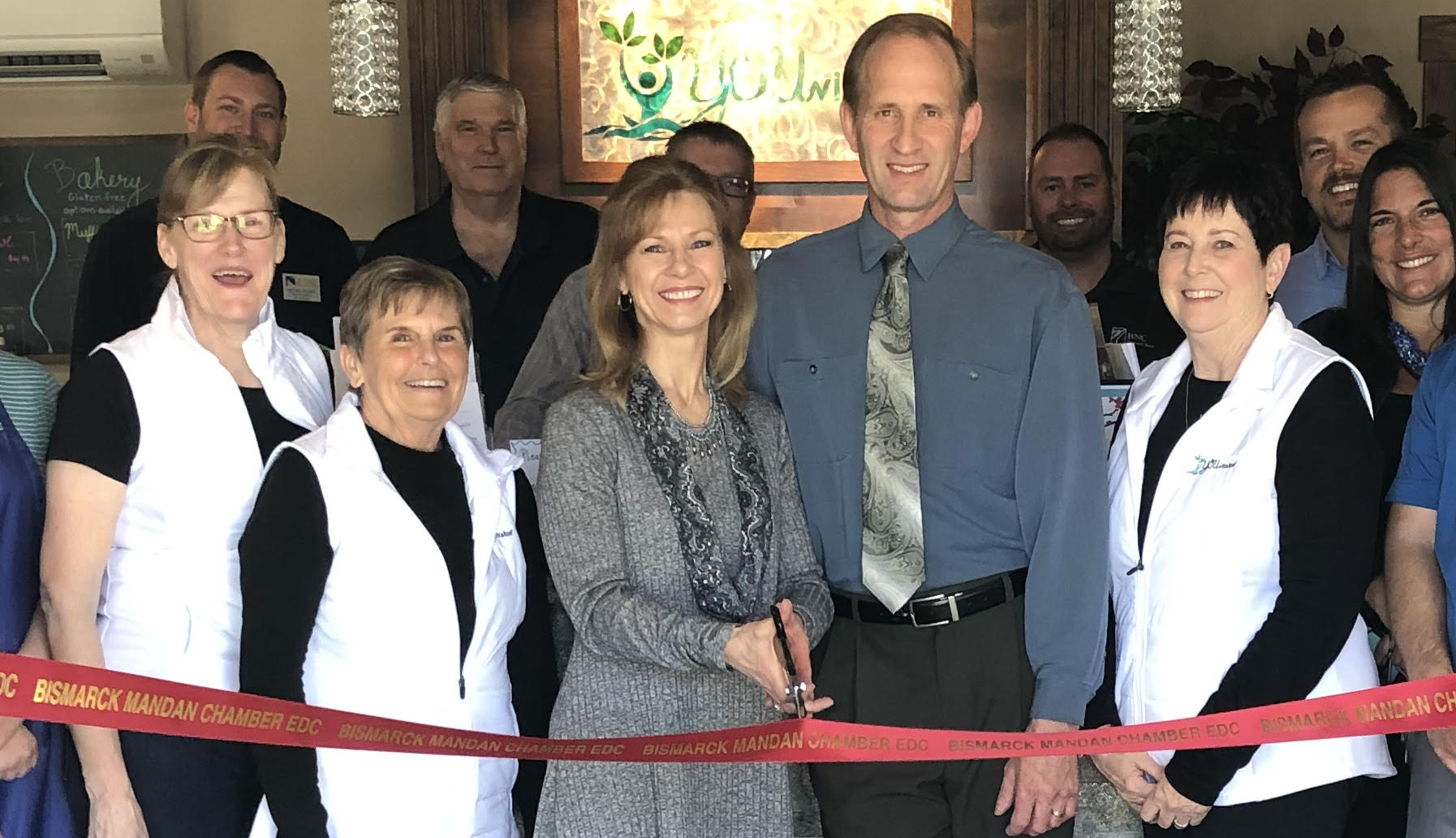 Shar Dukart is an enthusiastic entrepreneur with a passion for overall wellness, fitness, and all things spa. She also thrives on planning events such as wellness workshops, spa parties and weddings. Shar spent five years dreaming about owning a wellness spa and venue, accumulating lots of ideas along the way, before it became a reality. After graduating from Napoleon High School, Shar attended RD Hairstyling and went on to become a Master Cosmetologist. A couple of years later she earned a degree in Business Management from Bismarck State College. Her many years of gymnastics experience and coaching led her to bungee and aerial silks. After training in Minneapolis in Dec 2017, she became certified as the first Fly Bungee Fitness Trainer in North Dakota. She is married to Gene Dukart, owner of GD Cabinets and Construction and you will see that Gene's craftsmanship is evident throughout the YOUvitalize facility. In her spare-time, Shar enjoys camping with family and friends and spending time with her husband, son Brian, and two grandsons, Gavin and Holden. She has dedicated YOUvitalize in remembrance of her daughter Brittany, who was a fabulous Master Cosmetologist and Nail Artist. Shar's mission and goal for YOUvitalize is to provide a positive, fun, no judgement, community atmosphere where everyone feels welcome!
WELLNESS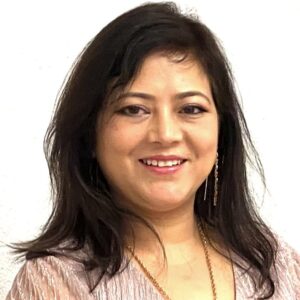 Meriya Shrestha,
Integrative Nutrition Health Coach, Healthy Cooking
Meriya Shrestha is an Integrative Nutrition Health Coach. She received in-depth training in nutrition, health, and wellness from the Institute for Integrative Nutrition. Meriya is a loving mother of two, married to a Physician, and has also worked as a Physician herself in the past. She became a Health Coach to fulfill her desire to work with individuals to improve their health and wellness. She is also interested in "Integrative Medicine", as she sees importance of integrating complementary medicine, such as yoga, meditation, exercise, and nutrition into conventional medical care. Meriya offers individual health and nutrition coaching based upon individual needs.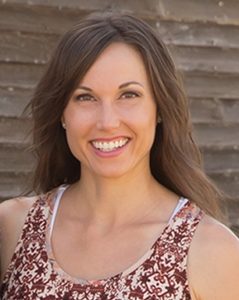 Tara Dukart,
Health & Habit-Setting Coach
Tara Dukart knows how challenging it can be to make changes to habits & routines, especially if they've been years or decades in the making. Stress, past hurts & struggles keep us believing things that hold us captive and negatively affect our thoughts, words, actions & relationships. Tara believes everyone has the right to experience optimal mental, emotional, physical & spiritual health. Although all people are perfectly made in the image of God, some of our actions & habits are not.  An effective coach can help you identify necessary habit & thinking changes and help you hold yourself accountable to your goals, much like a personal trainer. Tara is an International Holistic Management Educator, Speaker & Coach. She & her husband own & operate SeekFirstRanch.com, where they work to improve health through faith-based, holistic approaches & decision-making. Tara is a former middle school teacher & current homeschooling mother of 3. She is passionate about helping women, parents & families improve the effectiveness of their communication, implement balance in their priorities &  routines, and make appropriate changes to their diet or lifestyle choices to feel better, sleep better & improve quality of life.
Schedule a complimentary conversation with Tara to explore a personalized coaching option for you.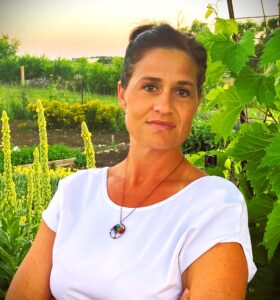 Suzie Johnson,
Massage Therapist
Graduate of The University of Mary with a BSN from the nursing program and practicing as a Registered Nurse for the past 19 years. Areas of nursing practice range from ER to Hospice (and everything inbetween). Through hospice, I learned how powerful the simple act of human touch can be on the body-mind-soul. Adding a Massage Therapy license to my RN license creates a well-rounded health and healing approach to extend beyond the walls of a traditional healthcare setting. I am an advocate for anything and everything Holistic Healing and am thrilled to be a part of the Wellness Community that YOUVitalize offers!
I see value in both Western and Eastern medicine and love to integrate opportunities for self-healing. The human body is an extraordinary gift with endless avenues for physical/mental/emotional/spiritual growth. Our bodies were created with an innate ability to heal through self-empowerment and healing presence.
I grew up in rural North Dakota in a farming community and developed a deep-rooted love for mother nature's healing treasures. Healing medicinal herbs are my passion and finding ways to incorporate into daily lives is my mission. But above all, my family is my pride and focus of life. Blessed with a husband of 18years, 3 amazing kids, 2 labs and a rabbit!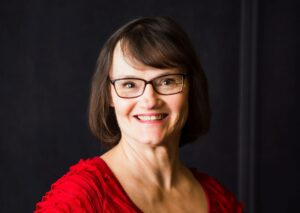 Garnet Schatz
Wellness Practitioner, Holistic Iridologist, Master Herbalist
Garnet has studied health for many years, which has helped her regain her vibrant health after a serious health challenge. She is a mother of five, grandmother or seven, and has a passion for helping people improve their health and wellness so they can live with the joy that God intended. As a Nutrition and Wellness Educator, she offers classes and sessions on a variety of topics, from healthy alternative food options, to reducing stress and ways to improve overall wellbeing. Garnet can help you understand and assess levels of your health with sessions of Heart Rate Variability, Holistic Iridology, and Applied Kinesiology. Sessions with the BrainTap and In-Light Therapy can promote deep relaxation, which is essential for healing. Reduce stress and pain, increase circulation with In-Light Therapy, Electro Reflex Energizer, Euro Shaper, BrainTap and detoxify with the Ionic Detox Foot Bath. Garnet has an extremely holistic approach to life and believes that the body can heal itself as it releases emotional, physical, and psychological stress and negative energies, and make positive and consistent changes in thought and nutritional practices. Garnet is very grateful to be associated with YOUvitalize, which is dedicated to promoting natural, alternative healing as well as bringing people together in positive fellowship.
SALON SPA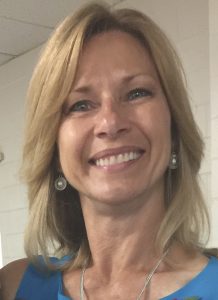 SHAR DUKART,
MASTER COSMETOLOGIST & FACIALIST
Shar got her Cosmetology training from RD Hairstyling College here in Bismarck and went on to become a Master Cosmetologist.  While she likes to do hair and nails, Shar loves doing facials the best. She has always loved pampering people to help them relax and rejuvenate. Her favorite facial to do is the Ultimate Luxury Facial where she gets to pamper you from head to toe. She believes that with all the stress in our lives, it is important to take time for yourself, so you can be the best you can be for your family and those around you. Her goal is to help you leave feeling relaxed, renewed and refreshed!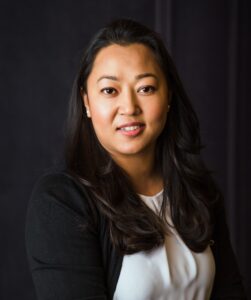 Neera Thapa,
THREADING SPECIALIST
Neera received her cosmetology training in Nepal and then owned and operated her own beauty salon for six years before moving to the U.S. She specializes in the art of designing eyebrows and removing unwanted facial hair by using the threading technique. She believes the eyebrows are the single most important feature of a face and she enjoys finding the perfect shape that aligns with every aspect of your facial profile. She performs all facial threading procedures with a focus on eyebrow shaping and correction in both men and women. She strives to perfectly shape your eyebrows and also provide the best chemical-free alternative to waxing and tweezing of facial hair removal.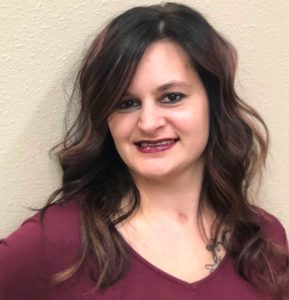 Lacey Roth,
Licensed Nail Artist
As a little girl, Lacey always loved going with her mom to the salon. She has a passion for helping people look and feel beautiful! She achieved her goal as a Licensed Nail Artist after attending JZ Trends in Bismarck. She especially loves to do Ultimate Spa Pedis where she gets to give her clients extra pampering and make their feet look soft and pretty. Bridal Spa Parties are always fun also and she loves working in the positive, happy environment at YOUvitalize specializing in nails!
Party & Events Coordinator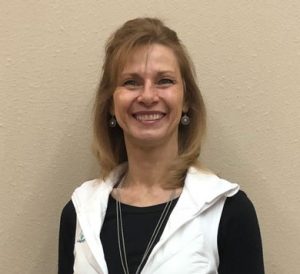 Shar Dukart,
Venue Rental Coordinator,    Bungee & Spa Party,                Wedding Planner
Shar loves parties! She is the party venue coordinator for the three rental spaces in YOUvitalize Wellness Spa & Venue. Birthday & bungee parties for all ages, baby showers, bridal showers, spa parties, graduation parties, music recitals, team banquets, dances, proms, anniversaries, rehearsal dinners and even weddings have been some of the wonderful events that she has helped coordinate. Whether you want to do your own decorating and bring in your own food or have her team decorate and cater for you, she will help you work out the details to help your event be a success!

Visit Us
3320 Hamilton Street, Ste 4
Bismarck, ND 58503
Contact us
701-415-0350
info@youvitalize.com
Hours
Monday  1pm - 7pm
Tuesday 10am - 7pm
Wednesday 10am - 2pm
Thursday 10 am - 7 pm
Friday  10am - 2pm
Saturday - Sunday   Reserved for Weddings, Venue Event Rentals and Private Spa & Bungee Parties